The year 1973 was pivotal for Mattel and the Hot Wheels brand. Sales were slowing and production costs were climbing; Mattel had to figure out how to keep the Hot Wheels line profitable. First, they changed the paint from the shiny candy-type Spectraflame to drab, unflattering enamel colors. Changing to enamel saved processing steps which, in turn, saved time and money. Two-piece wheels were phased out in favor of a one-piece design with an open center. Plastic parts, such as wings and engines, were done away with, as were stickers. Fewer parts meant fewer hands on the product, which equated to less assembly cost. Of the 24 Hot Wheels vehicles released for 1973, only three were new castings. The remaining 21 were recycled castings from previous years, again saving production costs by only having to invest in three new molds. The new castings for the 1973 line were the Double Header, the Sweet 16, and the Superfine Turbine. Interestingly, none of those three new castings were ever seen in mainline production again!
Maybe it was the plain, less-than-flattering colors, or the rehashed castings with missing parts, but for whatever reason, Hot Wheels did not sell as well as Mattel would have liked in 1973. Mattel even tried teaming up with the Shell Oil Company on a promotion: with the purchase of three dollars or more of Shell gasoline, customers were able to purchase one of 10 different Hot Wheels cars for just 69 cents each. The promotion did well for Shell gas stations, but ultimately it did not increase the overall sales of Hot Wheels by much. Lower sales equates to lower production, making the 1973 cars hard to come by; the three produced only for 1973 are among the hardest to find and, consequently, some of the most expensive Hot Wheels to collect.
The rarest and most valuable of the three models is the Superfine Turbine, which was painted in six colors for the 1973 Hot Wheels mainline: dark blue, light blue, lime green, lemon yellow, red, and pink. All are in the $400 to $500 range for mint condition cars, except for the pink, which is valued at $2,000. Packaged examples are valued at much more, depending on color and package condition.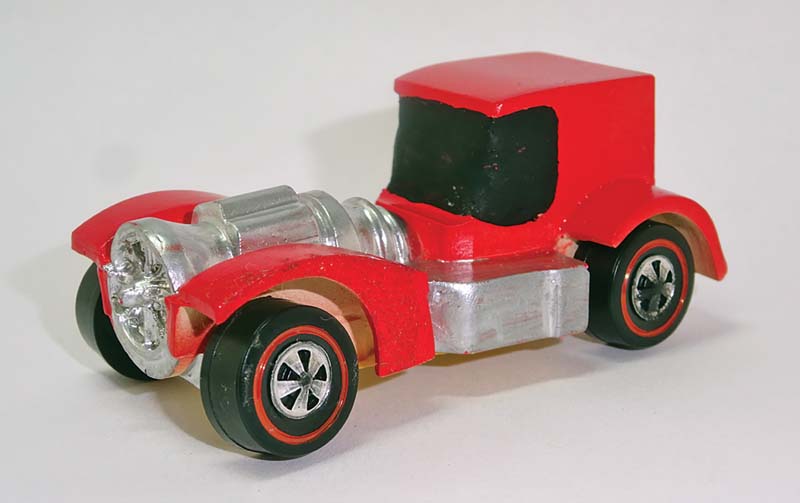 The Superfine Turbine was also produced in four different enamel colors exclusively for the Mexican market. Those colors are: orange, brown, mustard yellow, and bright green. These Mexican-market Hot Wheels were Mattel-licensed and assembled in Mexico by the CIPSA Company. CIPSA Hot Wheels cars and accessories are extremely rare and very pricey! So rare in fact, that there is only one CIPSA-carded Hot Wheels car known to exist—a yellow Superfine Turbine belonging to a collector named Theodore N. Gray. He has amassed the most complete collection of the Superfine Turbine, including the CIPSA colors and many other pieces, such as prototypes and model bucks you see on these pages. He has also collected and documented the CIPSA Hot Wheels line, and has recently published a book about the CIPSA Hot Wheels story. If you are an avid Hot Wheels collector who just can't get enough history and background information, I recommend buying his book from cipsacars.com. In fact, all of the photos in this article are courtesy of Theodore Gray.
Author: Mike Zarnock | Photos courtesy of Theodore Gray